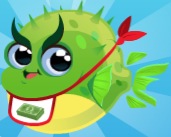 'Fish with Attitude: Greedy Fish 'Breeding guide
The Greedy fish is a two trait fish that requires two different traits to be in your breeding process to be bred. If you want to breed a Greedy fish then you need a Smart fish and a Mean fish trait in your breeding process for a chance to get the Greedy fish in your game. Other successful combination include Pirate Fish and Smart Fish.
Keep in mind breeding is up to chance and your game to give you the fish.
Fish with Attitude: Greedy Fish Evolution Guide
In Fish with Attitude, fishes evolve when you tap on your first feed. Each fish will have a set time that will finish it's "growing" status in their profile after you have fed him once.
Fish with Attitude: Greedy Fish Earnings ['Per Minute']
You can raise your earnings per minute for your fish in little aquarium by tapping on their profile then training them. Once you pay for the training it will take a certain amount of time before the training is complete. Once it does your earnings will raise.
"Seems like this oversize swimmer is only happy when it's taking more than its fair share. a green-eyed monster with fins, they want it all-and they're not shy about it."-Baby Fish Cataloag
Breeding time: 1 hour
Cost: 228 pearls
The Greedy fish can be bred with any combination of smart and mean traits.
Fun Fact: When feeding your fish the greedy fish eats any extra flakes and sometimes even eats all the food before other fish get to!