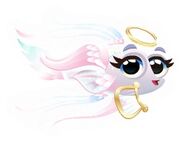 Angel Fish- As a celestial type, this is one of the special type of fish availible in the store. This fish has no basic attitude attributed to it and is the most expensive fish in Fish with Attitude. It has a purchase price of 1,681 pearls. It has been proven that you can breed it with a Fairy Fish and a Unicorn Fish.
Its caption reads:
"An uplifting choir seems to follow this fish. Its halo shines with inner goodness, and its heart beats with truth and hope. This is a truly heavenly fish, and rarely seen."
Its breeding time is thirty hours, and you have to pay 90 pearls to speed it up.
It produces 7 coins a minute if it is not trained.